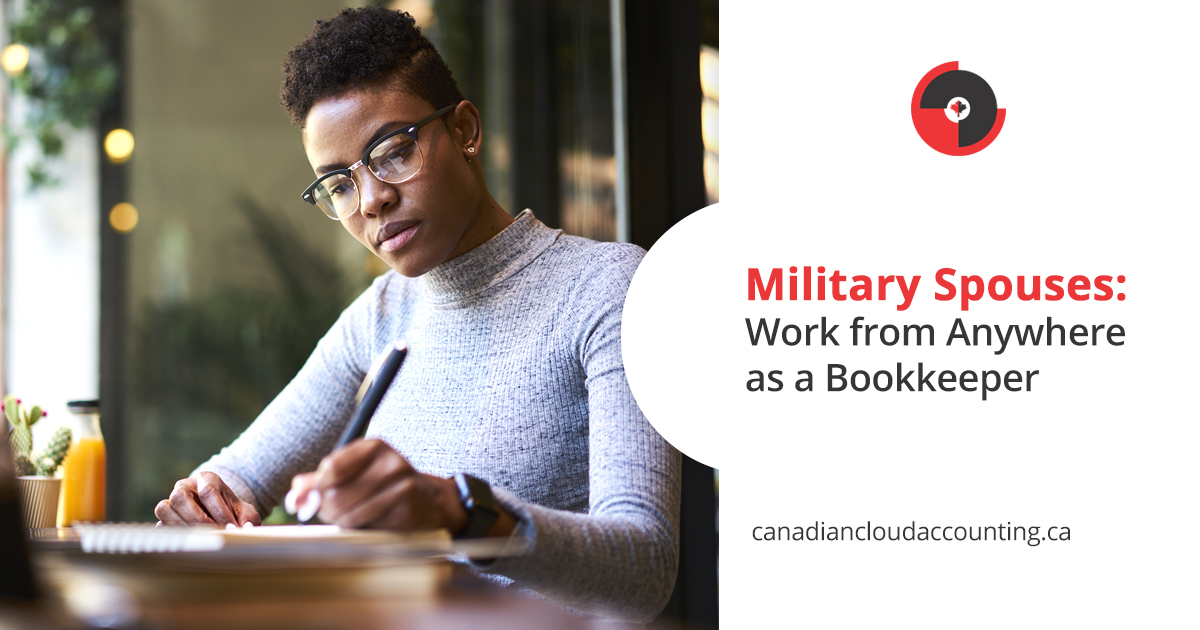 As a Canadian military wife or military husband, certain aspects of your life are dictated by your spouse's job that you don't have control over. Want to settle down? That depends on where your spouse is stationed, and often you'll have to change locations without much notice. Planning a vacation? Well, you'll have to work around ops tempo, deployments, and leave blocks.  
Part of being a military spouse is that you have to be tolerant. You have to be flexible. You have to be resilient. 
Fortunately, with those qualities and the rise of online work from home jobs, as a military wife or husband, you don't have to sacrifice having a fulfilling career of your own. 
But with so many websites advertising different online jobs, what kind of remote, part-time work would be best for you, reliable, and lucrative? 
The short answer: bookkeeping!
Bookkeeping is in Demand Worldwide
Bookkeeping is an excellent way to make money part-time without the need to be in a specific location. In fact, there's a rise in bookkeeper jobs as the economy grows. And the best part is you can work from anywhere in the world with an internet connection. So even when your spouse is deployed or needs to move into a new military base, your career can go with you. 
Bookkeeping Puts You in Control
Whether you have a high school diploma or a college degree, you can take part in Canadian Cloud Accounting's bookkeeping training, and take control of your career right away. Bookkeeping allows you to work as much as you need to, and there are plenty of opportunities for advancement. For example, many bookkeepers move on to become auditors or even accountants.
Bookkeeping also allows you to work part-time or full-time. You can opt to work as a freelance bookkeeper building up a nice roster of clients from anywhere in the world, or you can work for an established company that offers work from home positions; with bookkeeping the choice is yours!
Bookkeeping Pays the Bills
As a military spouse you know that flexibility is crucial, so you learn to adapt your plans during deployment and how to make new friends every time your rotation date comes up and it's time to move to a new location. Your lifestyle demands that your job be flexible while still being reliable and worth your time. And let's face it: money is an important part of that. 
As a military spouse bookkeeper you will have a flexibility of working part-time and still make a substantial salary. Did you know the average salary for a part-time bookkeeper in Canada is $40,950 per year or $21 per hour? Most entry-level positions start at $29,250 per year, but once you gain experience, you can make an average of $58,500 per year. Not bad for part-time work! 
Related:

QuickBooks, Xero, Freshbooks: Which Online Accounting Software is Right for You?
So Who is a Bookkeeper?
As a bookkeeper, you become an important financial support system for small to medium sized business owners, helping them get control of the administrative side of their finances. You'll record the day-to-day financial transactions for the business you work for. There's a lot of number-crunching involved, so you'll need a keen eye for detail.
Some of the tasks you'll handle involve recording journal entries, conducting bank reconciliations, billing for goods sold or services provided to clients, recording receipts from customers, verifying and recording invoices received from suppliers, paying invoices, and more.
If you have a head for numbers and you love to multitask, then you'll love bookkeeping. You'll rarely be working on one big project for an eight-hour shift. Instead, your typical workday could see you juggling five or six smaller jobs, keeping the work interesting and stimulating.
For any business to succeed, it's paramount to keep accurate financial records. So, as a bookkeeper, you'll play one of the most vital roles in the company working very closely with management in the day-to-day operations of the business. 
Most military spouses are either unemployed or underemployed, but you can break this cycle with a career as a bookkeeper that's both fulfilling and rewarding. 
Canadian Cloud Accounting Offers One-on-One Bookkeeping Training
If all of this talk of bookkeeping is resonating with you and you're looking to get started as a bookkeeper right away but you don' t know where to start, then Canadian Cloud Accounting is here to help. 
We offer one-on-one bookkeeping training that's all done remotely! That means no matter where you're stationed right now, we can provide the training you need to start your career today. We're more flexible than anyone when it comes to organizing your training session – in the morning, evening, or even on the weekend. We specialize in XERO & Quickbooks Online (QBO) cloud accounting software. 
Our certified bookkeepers will be happy to go over your needs and help you jump-start your bookkeeping career by giving you the answers and the training you need on any bookkeeping topic you seek to clarify.
Don't hesitate to get in touch with us and start training as a military spouse bookkeeper on important topics like books setup, templates setup, invoice issuance, recording bills, payroll processing, and more. 
Not only are our bookkeeping training sessions affordable, but we even offer a FREE half-hour consultation. So contact us today and get your bookkeeping career underway.