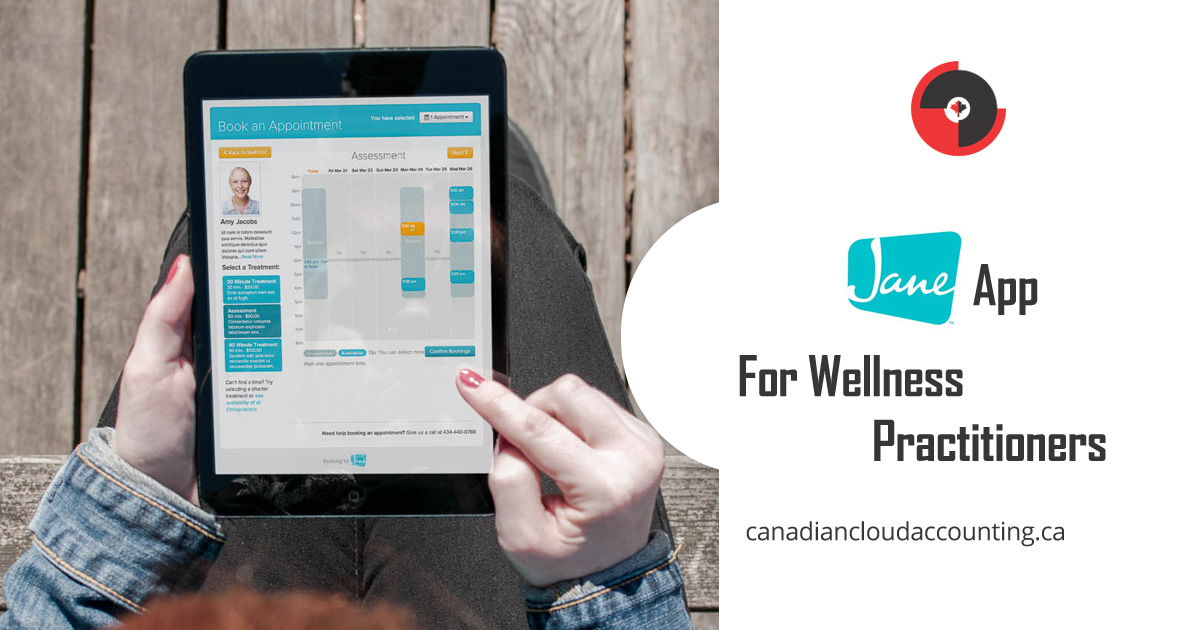 Are you wondering if the Jane App is right for your wellness business?
For businesses that focus on health care and wellness, like Registered Massage Therapists, chiropractors, mental health providers, etc., a robust online booking system is essential. You need a system that will streamline your administration, saving you time and alleviating the burden of cumbersome, repetitive tasks wherever possible.
We work with many clients in the wellness and health care industry and we've been looking at a variety of booking apps to help with their needs. We've been hunting for the best online appointment booking systems that also include invoicing and billing features. If you work in the health profession, one booking app that you need to know about is Jane.
What is Jane app?
Jane is one of the most robust cloud-based booking and client management solutions available for wellness practice management today. If you run chiropractic, massage therapy, or other wellness practice, then the Jane app might just be the perfect tool for you.
Jane app features
Online Booking
The primary reason to get Jane is for their online booking features. With Jane, your clients can see what days and times you're available for an appointment, and they can book everything themselves. If you have additional practitioners at your practice, they can pick which person they want to see right from the app. Once booked, their appointment will instantly secure a spot in your schedule, blocking any other appointments from being made at that time. It's fantastic because it eliminates double booking, not to mention all of the work of having to manage the booking and calendar yourself.
Jane's booking system (and other features) can be branded with your colours and logo. This offers a seamless experience to your clients and presents a professional, polished image. You can even use your business' domain name for the booking page.
Email Reminders
Clients missing appointments isn't just annoying; it also damages your bottom line. If they don't show up for their appointment, that's a lost time slot where you could have seen someone else.
Jane's email reminders and notifications minimize the chances that someone is going to forget their appointment. Immediately after an appointment booking is made, a confirmation is sent to the client by email. Another notification is automatically sent 24 to 48 hours before their appointment. (You can set your preference.)
The vast majority of the time, clients don't miss appointments for malicious reasons. They have so many other things going on that the booking gets lost in the shuffle. Frustrating, yes. But that's human nature for you! It's one of the reasons why these email notifications are so effective. Trust us; your clients will appreciate the reminder and you'll appreciate the increased revenue!
Charting
One feature that Jane offers that many other booking management solutions don't are medical charts. Rather than writing everything down on paper, you can use Jane's built-in charts to type, dictate, or handwrite notes into your client's chart. This feature works particularly well if you have a tablet. You can also add photos and videos to the charts to help track your clients' conditions.
Billing
While Jane is primarily a booking app, they also offer robust billing and invoicing features that can make getting paid much, much easier.
First, payment details can be securely stored on Jane's servers. You can select to accept credit card pre-payments or deposits when an appointment is booked, or rely on invoices.
All invoices and receipts are sent through email, allowing both you and your clients to see their entire appointment record at the touch of a button. This billing system can also be used to manage client insurance claims, as invoices can instantly be sent to the appropriate payor at the time of payment.
On top of all of these features, Jane also offers financial reporting, allowing you to get a snapshot of your practice's financial health. As bookkeepers specializing in the health and wellness industry, we love this feature! Your financial report is tracked by day, week, month, or year. You can also use their reporting features to track unpaid bills and manage any inventory you might have.
Jane App + Expert Bookkeeper = Perfection!
While Jane does offer some excellent invoicing features, it will not take the place of dedicated bookkeeper and accountant. And you also still need accounting software. It says so right on their website!
The good thing is that all of the information contained within Jane can be exported to Excel and many other spreadsheet programs. This allows you to import that info directly into Quickbooks Online or Xero. If that sounds like a huge pain, don't worry, Canadian Cloud Accounting can handle it for you. 
To conclude
While apps like Jane offer fantastic tools to help you manage your health and wellness business, it takes a dedicated cloud-based accountant or bookkeeper to make sure all your finances are in order. We know the unique demands that the healthcare industry can make on chiropractors, RMTs, mental health professionals, and more. Contact us today for reliable and professional virtual bookkeeping services.